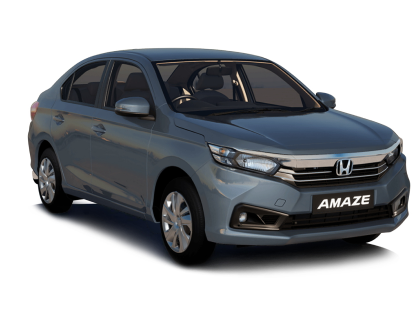 2 Baggage
4+1 Seater
Diesel
Manual
Rent Honda Amaze for Self Drive
When you need to take some stress off your mind, you immediately think about planning a short trip to get rejuvenated. If you have a car like Honda Amaze with you, then planning a trip will be a breeze. With Shtc india's Honda Amaze car rental services, you can now enjoy self-driving this vehicle without buying it. So, our Honda Amaze on rent program will help you to dodge unnecessary expenses like EMI, auto loans, regular maintenance expenses, etc.
With Shtc india Honda Amaze car rental services, you can enjoy your tours, cross-country road trips, etc. with complete privacy and safety. Due to the pandemic, safety when traveling has become a priority for many, as it should be. Traveling via public transport or cab services is risky nowadays as you never know the health condition of the other passenger that you come in contact with. With our Honda Amaze for self-drive, you have the advantage of traveling in a vehicle that only you and your family use. You can sanitize and maintain cleanliness inside the car as per your preference.
Choose Shtc india and be free from rental plans like Honda Amaze rental per km. All our Honda Amaze for self-drive plans are available as per your requirements and driving style. At Shtc india, you can select Honda Amaze rent per day plans if you need this vehicle for a couple of hours. And for trips or regular commuting, choose our Honda Amaze weekly, fortnightly, and monthly subscription plans available with both limited and unlimited kilometer options.
Honda Amaze 
All our Honda Amaze car subscription plans come with some benefits like zero down payments, free service and maintenance, all-inclusive annual insurance, no waiting period, easy upgrades, any-time cancellation, and more. Shtc india's Honda Amaze car subscription can be extended for three years. So, you can also enjoy having Honda Amaze on lease via our subscription plan. When you subscribe Honda Amaze from us, each month you are getting the benefit of changing the rented vehicle with a different model from the many available on our website. You can drive and go wherever you want until your Honda Amaze car subscription expires.
Subscribe Honda Amaze from us and drive the car with zero liabilities. Our Honda Amaze on lease ensures you can enjoy everything owning a vehicle have to offer without having to pay for the different expenses, fees, and charges that are always included with a car purchase. So, our monthly Honda Amaze for self-drive plan is a much better and cheaper alternative to buying this vehicle or any other.
Why should you hire Honda Amaze from Shtc india Self-Drive Car?
Taking public transportation or simply hailing a cab is a huge pain. Sometimes getting one can take up to an hour which becomes a huge problem if you are running late. Besides, cab drivers come with their own set of issues. For example, they may refuse to go a specific place, agree to drop you off in front of your destination, or refuse a specified drop site. But if you take Honda Amaze on hire from Shtc india, you won't face all these problems associated with traveling with a cab driver. If you take the Honda Amaze on hire from us, you will be able to spend time with your family in complete privacy and save a lot on your average daily travel expenses.
Honda Amaze car booking from Shtc india is free from hidden charges. When you choose any of our Honda Amaze for self-drive plans, you have to pay a refundable security deposit which will be nominal. You should definitely consider Honda Amaze car booking from Shtc india as we are a car rental company that offers delivery of the rented vehicle as per your preference. Book Honda Amaze from Shtc india and we will deliver the vehicle to you, may it be your home, office, or airport arrival terminal. With our Honda Amaze car hire plans, you are always getting delivery of your rented vehicle in the best condition. We ensure all our cars are first cleaned and sanitized before making the delivery.
So, Book Honda Amaze from Shtc india and travel in ultimate peace and comfort.
Why Choose Us
Explore our first class limousine & car rental services
Our Fleet, Your Fleet
We know the difference is in the details and that's why our car rental services, in the tourism and business industry, stand out for their quality and good taste, to offer you an unique experience
Call us Now : +91 73737 30705